Blockchain's value is clear, right?
Conventional wisdom is at odds with what I am finding in my research. Through this article you will learn what one thing that failed blockchain projects do wrong and how to avoid making the same mistakes.
Blockchain projects should evaluate their business cases and determine how blockchain will benefit them. However, blockchain projects often get started for other reasons. Experts' opinions and data provided by analytics firms support this conclusion. I find this surprising, since you would expect mature organizations to ensure that they do business case analyses before allocating resources to projects.
Gartner's new business value forecast methodology quantifies the value of a technology's innovation. It looks at factors of customer experience, new revenue, and cost reduction. According to this methodology, in the context of blockchain, "The business value-add of blockchain will grow to slightly more than $176 billion by 2025, and then it will exceed $3.1 trillion by 2030." We are talking big numbers here. With such expectations from the technology, everyone wants to get involved. They want to make sure that they are not getting left behind. Although, the critical question is, are you getting involved in blockchain for the right reasons?
Pattern of blockchain project failures
"My investors are asking about our blockchain strategy, and I need some tutoring on the topic," my friend Sandeep said. Of course, he got the help he needed, but it left me wondering. His reason to look into blockchain technology was not a business problem that he was trying to solve, for which blockchain was identified as the solution. Instead, he needed to look into the technology for external reasons.
Stephanie Hurder is a founding economist at Prysm Group, an economic advisory firm focused on implementing emerging technologies, and an academic contributor to the World Economic Forum. She has been an active participant in enterprise blockchain initiatives. Working with various projects, she can see some familiar trends showing up. She explains, "You'll have a consortium announced that they have a proof of concept or that they're going to do a pilot for a specific use case. And then a year later, you come back, and you say, 'Oh, I wonder what happened to that pilot, sort of never heard from again,' and we just see this pattern over and over again." The projects just didn't bring in the results.
This observation can also be backed by data. According to a PricewaterhouseCoopers survey, of the respondents who report a blockchain project in the pilot stage, 54 percent say the effort sometimes or often didn't justify the result.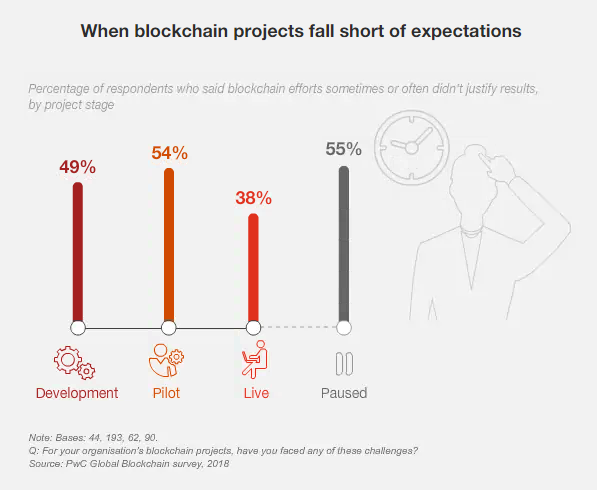 Link blockchain use to business benefits
On one side, there is such potential, but on the other hand, the potential seems to be faltering. Blockchain can add significant value to companies. But they need to be clear on what the value drivers are and who is getting the value. Many projects are unclear on their reasons for using blockchain technology instead of existing technologies in the context of a particular use case. If projects just follow the hype and do not link their efforts to value, they increase their chances of not being heard from again.
As per a 2019 Gartner prediction, "Ninety percent of current enterprise blockchain platform implementations will require replacement by 2021." A key reason for that is not linking use cases with the business benefits of blockchain.
Clarifying value may not seem like the most important task right now. Well, blockchain is so hot right now, and everyone is using it. With all the hype, it seems to be revolutionizing so many industries. Why does a business case matter? Think again. If you have made sure that you are tackling the right use case at the outset, it might save you a lot of headaches once you are well underway with the project. The opportunity will pass you by if you do not act now. Inevitably, there will be sunk costs. Ultimately, you will need to decide to what extent you're willing to throw good money behind bad.
---
Action
It is important for managers to understand that many projects fail because the wrong reasons are given for starting them. Thus, they should prioritize business value discussions when starting their projects. This will ensure that the blockchain technology project starts for the right reasons and is headed in the right direction.
---
Resources
Forecast: Blockchain Business Value, Worldwide, 2017-2030
Ep.107 – Why enterprise blockchains fail? No economic incentives - Insureblocks
Make the blockchain business case: evolution, not revolution: PwC
Enterprise Blockchain Platform Require Replacement | Gartner
---
Subscribe to the newsletter
Read the book: Unblocking Blockchain: Enabling Your Digital Future.
Image credit: Money vector created by pch.vector - www.freepik.com